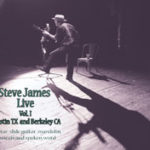 Steve James Live Vol. 1 (2016 Hobemian) $16
Recorded live onstage in Austin and Berkeley, your favorite Steve James songs and stories.
1 The Down Bound Train  4:32 (C. Berry/trad.)
Charlie Poole visits Floyd, Va.  1:43
2 Milwaukee Blues  3:20  (C. Poole/trad.)
3 Juanita Stomp  3:06  (J. Williams)
4 Talco Girl  4:30  (S. James)
A tribute to Bumble Bee Slim
5 Greasy Greens  4:30
6 Wet Clothes Blues  4:53
7 I Love My Guitar  5:55  (S. James)
8 Guitar Rag  2:14  (S. Weaver)
9 Huggin' and Chalkin'  3:18  (Goell/Hays)
10 Railroad Blues  3:05  (S. McGee)
11 Birmingham Steel  5:17  (S. James)
12 Latex Road Variations/Stewball  4:07  (S. James/Ledbetter)
I've been in my basement workshop in downtown Seattle, listening to the heavy metal band rehearse next door and working on the sweet old guitars and mandolins I've collected for the past 30 years. They are finally getting the attention and care they deserve. Some of my favorites are the sturdy little instruments made by Harmony in the 1950s that bore the Stella name along with this reassuring logo: "Steel Reinforced Neck Made in USA". In honor of the great Stella brand, I offer this new T-shirt:
Steve James T-shirts $25  Black, of course. 100% cotton. Medium, large, XL and XXL. Specify size in the comments after you order.
Having a good time at the Cabot Theater in Beverly, Massachusetts.  I was part of a concert series, and many of the people in the audience had never heard (or even heard of) me before; but the show was well attended and received and I warmed to the task.  When asked about my tech requirements before show, I told 'em one mic on a bare stage.  Very accommodating people, as you can see.